Projects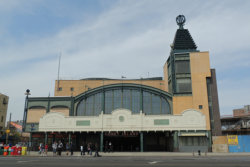 The Design Forum, Inc. has been working on countless of architectural and engineering projects over the years. Our cost-effective and quality architectural services are just what our clients need to shape the ideal environment. It is our belief that a structure's design should fully reflect its intended purpose.
Our team of highly trained and dedicated architects and engineers work on all our clients' projects from conception to completion. We offer complete architectural service for schools, municipalities, commercial establishments, places of religious worship, and residences. We draw on all of our experience working together with developers in these various settings to create the soundest and most realistic results for the people we serve. Such experiences include the active involvement in the shaping of educational environments for 50 years; working together with municipality officials in the creation and renovation of facilities; teaming up with commercial developers; the designing of houses and churches for clients and congregations, respectively, and much more.
If you have an idea or concept that you can't wait to share with us, don't hesitate to call 616-454-1398 today. We'll turn those plans of yours into simple yet innovative projects that you'll definitely be happy with.